Healthcare jobs are always in demand, and administrative positions are booming. The Bureau of Labor and Statistics cites that the

employment of medical and health services managers is projected to grow

32 percent from 2019 to 2029

, much faster than the average for all occupations. Now is a great time to prepare for a career leap.
Earning a credential like the

Certified Medical Office Manager

means gaining more expertise, leveling up your career, and ultimately, making more $$$. If you love working in the non-clinical side of healthcare and want to take on a leadership role, studying to become certified is a step in the right direction. But, how do you know if you're ready to make the leap into CMOM? Take the assessment to find out.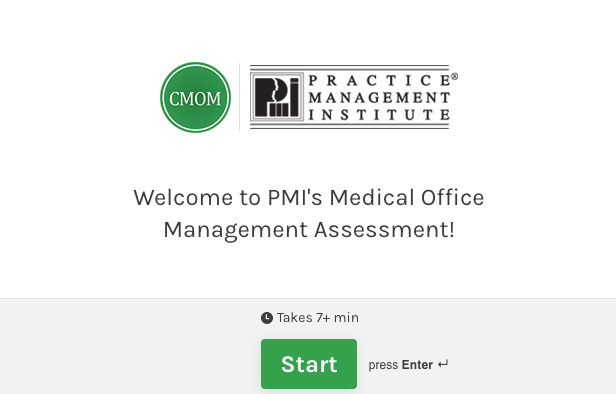 Whether you are already employed in a leadership role and are seeking to add a credential to your title, or you want to work your way up the ladder to a higher-paying position, PMI's Certified Medical Office Manager credential stands out as one of the most sought-after, nationally recognized certifications for medical practice leaders.
"As healthcare professionals, it is essential we equip our management team with the best tools and education to do their jobs to the best of their ability," says Deborah McNeilance, MBA, CMOM, CMIS, CPC, CMC, Chief Operating Officer, Huron Gastro.
"Their success becomes your success as you strive to deliver patient centric care in a compassionate and highly productive environment. The recent pandemic has proven the value of training and education when unexpected events require your management team to be resilient, compassionate and resourceful."
PMI offers many educational classes that will equip your management team to be ready for the unexpected and maintain consistent support for their staff. As Zig Ziglar once said, If you are not willing to learn, no one can help you. If you are determined to learn, no one can stop you."
About the Assessment
PMI's free Medical Office Management Assessment will help you determine if 1.) the type of knowledge required is within your areas of interest, and 2.) if you have enough working knowledge to enroll in the certification course. It takes less than 10 minutes to complete, and you get instant results and training recommendations sent to your email. You have nothing to lose and everything to gain. It's free!