Northern California Medical Associates (NCMA) has been a leading association of medical practitioners in the North Bay Area since 1975, when Cardiology Associates of Santa Rosa, Inc. first opened its doors. Since then, NCMA has expanded its expertise and scope of care by merging with several private practices to better serve patients in Sonoma, Mendocino and Lake counties.
NCMA has successfully created a model featuring an independent, multi-specialist group practice that allows patients access to a broad range of medical and surgical services, diagnostic testing and preventive programs at a relatively low cost. The group focuses on the recruitment and retention of sought-after clinical and operational personnel and has the most highly respected primary care physicians and specialists in the area.
In 2018, the organization launched the Emerging Leader Coaching and Development program (ELC&D), a pilot program that took supervisors and managers through nine-months of training to accelerate their professional development in support of NCMA's goals, culture and future. This group participated in individual assessments, coaching and group skill development workshops.
Lindsay Usher, MA, PHR, SHRM-CP, PCC, NCMA's Director of Human Resources, said that one goal of the ELC&D program is to help managers accelerate developing a team of connected and dedicated leaders. Among the many program activities, they were also tasked with developing a strategy and plan for a significant company-wide project.
"Based on feedback we got from the participants they really appreciated the value we saw in them. We were giving them the opportunity to be creative, powerful leaders with the chance to impact the culture of the organization. They developed camaraderie and confidence in one another which builds trust across the leadership of the organization."
The group completed the Certified Medical Office Manager (CMOM) training, as part of the ELC&D program. The CMOM curriculum, developed and administered in 2005 by Practice Management Institute (PMI), is nationally recognized certification teaches current guidelines and best practices to help protect providers, motivate employees, and improve the practice workflow.
When asked why she brought this component into the program, Lindsay said that from an employer's perspective it was important to set a baseline of knowledge for our managers and supervisors, and she wanted to integrate a program that was recognized in the industry. She learned about PMI and the CMOM program from a nearby university medical center that required all their office managers to be certified. The concept of having a standard baseline for competence and knowledge — something shared by peers — was an important step toward elevating manager effectiveness.
"I went out to the PMI website and emailed Michael Moore. He helped us through the process and sent us the materials to review. He was there whenever he was needed and there was no pressure to move forward. He even offered to tailor the program by putting emphasis on different aspects which I thought was important because I wanted the group to feel confident and prepared for the exam."
Michael said the opportunity for us to be a part of the Northern California Medical Associates and the ELC&D program success story is one PMI is very proud of. "You have set a high bar in terms of training qualifications for your leadership. We are excited to highlight our partnership with you."
PMI Faculty Member, Audrey Coaxum, taught the multi-day course, and Lindsay said she was impressed at how well she kept the group engaged, and the learning process fun. "The group said she was clear and they felt very comfortable asking questions. It's great to hear about the connection between the classroom and the day-to-day."
During the training, subject matter experts came in to enhance the curriculum and respond to any questions that were specific to NCMA operations, policies and processes. Afterwards, NCMA asked participants about their experience. Cindy Billings, CMOM, Billing Specialist Manager, said she feels more confident in what she does.
"Being a manager has its unique set of challenges, but I feel that having gone through both the CMOM and the ELC&D programs have given me the foundation and building blocks to handle those challenges on a day to day basis. The CMOM program provided me insight into the clinical and financial side, and the opportunity to see how we all play a vital role in a successful company."
Waynette Lutz, CMOM, HIMs and PAR Supervisor, said the class was an excellent pairing to ELC&D program. "It has provided me with a foundation of the technical knowledge needed to effectively manage a practice. The leadership skills gained from ELC&D program then enabled me to generate the personal strength to effectively communicate changes with others and to view any challenges that arise as opportunities to make our practice and NCMA as a whole, even better."
"It gave me a different perspective on our clinical operations and provided me with clearer insight on the challenges my counterparts face with balancing patient care and running a medical business," said Christianna Johnson, CPC, CMOM, Coding Manager and Coding Compliance Auditor. "The information I learned through the CMOM program has been invaluable, teaching me ways to work together with my fellow managers, and run our medical business more smoothly as a result."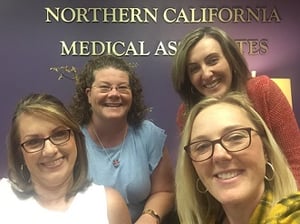 "As an office manager, it is really easy to get bogged down by daily challenges and lose sight of our overall purpose or goals allowing our days to be directed by circumstance rather than driving our business," said Alicia Brophy, CMOM, CCMA-C, an Office Manager with NCMA Live Oak Family Practice. "Participating in the pairing of the CMOM and ELC&D program has not only given me a fresh perspective, it has given me an opportunity take back control of my office. CMOM has been a great resource for me on the technical aspect of the business arming me with knowledge and reminding me to look at the bigger picture of the operations while the ELC&D program has directed me to look inward allowing myself to become a better leader and develop strong relationships & teamwork to achieve results. I believe both programs have proven to be mutually beneficial to enhancing our patient care and staff experience."
This year, NCMA has added another layer to the ELC&D program that provides the team with mind-body skills. Lindsay included the groups from both years - 2018 and 2019 - together to accelerate the learning process and deepen their group efforts.
The idea for the Mind Body Skills Group rose from the embers of the 2017 Tubbs fire that devastated their community. During this difficult time, the Center for Mind-Body Medicine (CMBM) came to town to partner with another healthcare organization to train a coalition of people to go out in the community to help with the resilience and recovery process. CMBM is a global leader in trauma relief and resiliency; making self-care, group support, and community-building central to all healthcare.
"I went through the CMBM program to become a facilitator of mind-body skills groups," Lindsay said. "The opportunity to bring mindfulness modalities and group support to our leaders at NCMA has been both personally gratifying and valued by the participants. Our whole community was impacted by the fire. I lost my home like so many others, so the CMBM program has been personally transformative."
"The ELC&D program will continue to evolve and adapt to our business needs to stay relevant and value added. PMI's CMOM is a component of the program that does the same and will be important as we move forward in the development of our leaders at NCMA."