Why We Host: An Interview with Lisa Lee, Senior Manager, Outreach Development for University Health System
Practice Management Institute (PMI) works with clients all over the country to provide training opportunities for medical offices regionally. In 2016, University Health System (UHS) in San Antonio, Texas, hosted 11 classroom sessions that brought professionals from medical offices all over the region to one of the health system's facilities, University Hospital.
The last two sessions drew 60 participants to the hospital's state-of-the-art meeting room located on the ground level of the new Sky Tower to get the latest 2017 CPT® and ICD-10-CM coding updates for outpatient services.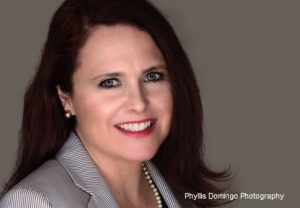 Lisa Lee, Senior Manager, Outreach Development for University Health System (UHS), recently sat down with us to reflect on the past year of hosting PMI training classes in her market.
"Our goal in hosting educational seminars for provider offices has been to establish meaningful relationships with them throughout the region," said Lee. Those in attendance truly appreciate these training opportunities.
Getting to know the attendees goes hand-in-hand with Lee's role increasing awareness in the surrounding community of the many leading-edge services the hospital provides. Lee loves representing UHS and the system's patient-centered healthcare solutions.
University Health System is a leading academic medical center. In recent years, it has grown
exponentially in partnership with UT Health – San Antonio. The hospital's Sky Tower, completed in 2014, includes an expanded emergency department, South Texas' premier Level I trauma center, 35 surgical suites, 420 private patient rooms, and 716 total beds. The ultramodern facility is equipped with some of the most technically advanced care available anywhere, in a beautifully inviting and comfortable setting. It continues to lead the way in advanced treatment options, new technologies and clinical research in the region.
"Through our partnership with UT Health – San Antonio, UHS has a network of outstanding doctors, teaching residents and fellows, who are always on site to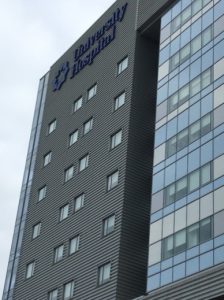 care for patients," said Lee. "Our Level I adult and pediatric trauma centers serve a 22-county region in South Texas. We have the most experienced Emergency Department, the first Joint Commission Certified Comprehensive Stroke Center and an award winning transplant center," she said. The hospital is also the first and only health system in the region to earn the prestigious Magnet status designation from the American Nurses Credentialing Center.
PMI training classes have created opportunities for Lee and her colleagues to connect with more provider clinics and outpatient facilities in her region.
"It's an easy draw and a real win-win. As a well-respected teaching hospital, these PMI classes fall in line with our mission. We host the programs to help surrounding clinics and outpatient facilities be more successful," said Lee.
"During these classes the instructors keep everyone engaged and often will spark interaction so everyone gets to know each other quickly," she said. "The sharing of processes and ideas has been gold. We are providing tangible skills that help make their clinics more successful and their providers are starting to see the value as well. The new knowledge helps them be more confident in their jobs."
"Some participants have told me that this is the first time they've been to training and they realize it is worth their time to get out of the office," she said.
Lee has connected with a few professionals who are looking for reemployment and have been thankful for the opportunity to brush up their skills. She has been able to help them reach out and network with other participants.
"UHS is building relationships with medical office professionals and provides them the opportunity to see new facilities and services available within the hospital," Lee said.
"I get to educate providers about our trauma and our new pediatric ED services as well as our stroke center, and many inpatient and outpatient services," she said. "It really opens the door showcasing our expanded services and ultimately leads to more referrals. They've walked through our halls. Many who have not ever been here or have not been in several years may not realize that we have a completely new campus and state of the art facilities. Now they've been here and connected with us they get to know me and my colleagues and can take information about our services back to their providers, who depend on their staff to keep their practice in line from a reimbursement and compliance standpoint."
Lee connects with all the class participants to schedule tours and answer questions. She educates them on the types of services offered and the hospital and working to create a robust health information exchange. She makes herself available as their point of contact that these offices can talk to rather than calling a central switchboard operator.
"It has been very fulfilling to be able to provide education to help practices thrive especially during a time of big changes to provider reimbursement models. Working with PMI has helped me connect with providers in a meaningful way," she said.
When choosing classes to offer at the facility, she usually selects hot topics.
"We've filled seats quickly by providing a variety of classes. Last year, everyone needed to get on board with ICD-10. They also want more detailed instruction in outpatient coding, help with their front desk operations, HIPAA, and management skills."
Lee says making an investment with these clinics that ultimately connect with UHS is the glue that holds it all together and it is creating an uptick and ripple effect in referrals from these outpatient facilities.
Lisa's executive leader, Ted Day, EVP, Strategic Planning and Business Development for University Health System, agrees.
"University Health System has appreciated the opportunity to partner with PMI to help support knowledge development in current best practices of medical practice providers and staff in the region," said Day. "The health system, ranked Best Hospital in the region and sixth best in the state by U.S. News & World Report for six years in a row, seeks to serve regional practices and facilities with excellent services and leadership. The system also serves as the regional anchor for the 1115 Healthcare Transformation Waiver and the region's only civilian Level 1 Trauma Center for adults and pediatrics. PMI has done a great job of providing cutting-edge training and we are pleased to work with them. The training they provide enables medical office leaders to sharpen their skills and advance the effectiveness of their practice operations."
Interview Date: December 9, 2016